Blog
The following blog is probably a little more different than most. It is a mixture of information we find interesting as well as information from personal travel. Does that make it a blog? Who knows. Our blog will continue to grow as we add more tidbits from our past travels and will definitely be adding from future travels. We have found over the years that writing about the travel is a great way to remember and share our experiences so for now we are going to call it a blog. Check back often for updates!

Church
Ross Castle is a tower house, built sometime in the late 15th century by the O'Donoghue family who ruled the Killarney are at the time.
Lipica, Slovenia
Church
Salt Lake City, Utah
Gondola
Farmhouse
In the mountains outside of town.
Sightseeing
Passion Play
From a helocopter
Germany
Script Slideshow by WOWSlider.com v4.4m
Honeymoons Made Easy
Honeymoons too often take a backseat to the arrangements and plans of the actual wedding, but you owe it to yourself to give honeymoon planning greater and more careful attention. After all, while the wedding is mainly for your family and friends, the once-in-a-lifetime honeymoon that follows is a private getaway for you and your new spouse to celebrate your marriage. Though you may spend a portion of your vacation relaxing and reflecting on this major life change, the honeymoon is most of all an opportunity to enjoy being a newlywed, spending quality time with your new spouse, and experiencing a romantic and exciting getaway.
Honeymooners have endless options. Following months of wedding planning, couples often retreat to a luxurious resort that caters to their every need, while others trek to an adventurous escape from their day-to-day lives. Whether a beach vacation, a safari or a ski trip, the honeymoon should reflect your joint personality and wishes.
Keep in mind that perfect honeymoons don't just happen, and planning requires thoughtfulness, patience, careful attention to details, and a lot of decision-making along the way. The more homework you do before leaving for your honeymoon, the more you will enjoy your special vacation.
Planning a Hassle-Free Honeymoon
If you and your fiancé are just beginning to think about your honeymoon plans, a good place to start is agreeing on a specific destination. A recommended way to do this is to sit down together and compile a list of your top dream vacations. Choosing a destination and an itinerary that really works for your personality is also key. It's easy to get overwhelmed at this stage, since you have so many possibilities, but you can narrow down the options by deciding if you'd prefer a tropical beach, big city, or a place known for adventure travel. Also consider if you want warm or cool weather, a distant land or someplace closer to home, a vibrant location with people to meet, or seclusion, where it will just be the two of you. Speak with your travel consultant about all of your honeymoon ideas, and consider including adventurous and unusual travel themes along with more popular options like mass market cruises and all-inclusive resorts.
Also remember that you may need to psychologically accommodate to your new status as a partner and a spouse, and with proper planning and smart travel choices, you can enhance your opportunity to bond without undue stress over logistics or other complications. Your travel consultant can always develop a customized honeymoon that provides not just a vacation experience, but a real journey for the two of you set in a locale that reflects your personalities and values.
Once you've decided where you want to go, your next step is to make a budget. Find out if you have any frequent flier miles or hotel discounts you can use towards your trip. Also think about putting all the wedding expenses on a single credit card that accumulates frequent flier miles for the honeymoon. The cost of your honeymoon will, of course, be the sum total of the accommodations, activities, transportation, meals, tips, souvenirs and other travel costs. Be candid with your travel consultant to make your honeymoon economically comfortable.
When considering your budget, know that all-inclusive resorts take care of most of your meals, athletic equipment, and tips. Some also include liquor and bar costs as well as resort-specific activities. These arrangements vary widely, however, with some including roundtrip airfare, so find out exactly what is and is not included in the price.
Also note that honeymoon packages offered by hotels, airlines, and wholesalers typically include special perks for newlyweds that you can't get with standard packages. Your travel consultant will know to ask your hotel if special honeymoon packages are available.
Once you have a budget, decide when to go and for how long. Figure out how many vacation days you have and how many you'll need before the wedding to take care of odds and ends at the last minute. Decide whether you want to leave immediately after your wedding, or wait a few days or weeks to give yourself more time to focus on the trip. If you don't have very many vacation days, you may want to take a "mini-moon" the weekend of the wedding and then a longer, second honeymoon on your first anniversary. It's usually a good idea to give yourself at least a day or two to continue the honeymoon after returning home, before you head back to work and settle into your everyday life.
Don't forget to research the travel documents you might need for your honeymoon as well. U.S. citizens need valid passports for all air and sea travel to and from Europe, Asia, and Australia. As of January 8, 2007, passports are also required for travel to or from Canada, Mexico, Central and South America, and the Caribbean. Your travel consultant will assist with all of the necessary documentation, including documentation of your recent name change!
Be diligent about keeping copies of all correspondence, confirmation numbers, and invoices given to you by your travel consultant. Double- and triple-check all the plans to be sure that your departure and return dates are correct. Inform everyone along the way that you're traveling on your honeymoon, so you don't miss out on complimentary perks. Stay organized by creating a folder or notebook where you can keep all this information.
One last bit of advice: Have realistic expectations throughout the course of planning and taking your honeymoon trip. While it's only natural for you to want your honeymoon to be perfect, bear in mind that travel is inherently an adventure. Approach your honeymoon with an open mind, and prepare to have plenty of laughs along the way.
There really are endless possibilities for honeymooners. Whether you decide to go on an exotic foreign expedition or visit a nearby luxurious resort, start planning early to make sure you're right where you want to be… and then Bon Voyage!
Contact Geography Destinations Travel today to start planning your Honeymoon.
______________________________________________________
Romance Resorts and Relaxation… Jamaica Delivers!
Jamaica is a world apart. Few locations on earth have been so graced with amazing natural beauty, wonderful climate, crystal clear water and rich culture. The Jamaicans say their land is the "biggest little island in the world. Indeed, one trip is not enough. To fully take in Jamaica you must travel there again and again. And why not? There are tropical rainforests, waterfalls, wonderful sand beaches, shimmering sands and a turquoise sea, a wide variety of resorts, and a culture with a rhythm all its own.
Tourism in Jamaica is well established and the resort infrastructure is excellent with a wide variety of accommodations at every end of the budgetary scale. Properties range from independent hotels to all inclusive resorts.   Romance and Relaxation are top priority at any one of the many All Inclusive Resorts that make Jamaica such a premier destination that everyone must do once in a lifetime.
Most of the hotel development is on Jamaica's North Shore at Montego Bay, Ocho Rios and Negril. Jamaica is home to many all-inclusive resorts, but also offers alternatives from locally owned properties to luxury villas.
The mountainous interior of Jamaica provides an idyllic setting. The island's Blue Mountains contain a wide variety of plant and animal life and ecotourism here is seeing a healthy interest.
Contemporary Jamaican culture, epitomized by the music of Bob Marley, expresses the national pride in the island's heritage.
The English wrested Jamaica away from the Spanish in the mid-1600s and used the island as a base throughout the Caribbean. They permitted pirates to hold sway over some areas of the island like Port Royal to continue to threaten Spanish interests in the rest of the Caribbean.
Jamaica has more churches per square mile than any other place in the world. Every denomination finds a home here, as well as Jews, Hindus, Muslims and Rastafarians.
Most resorts and hotels will arrange for guided drives around the island for visitors. It is a great way to get off of the beaten path, see the real Jamaica, and to slowly acclimate to a side of the island not found behind the gates.
Contact Geography Destinations Travel today to start planning your Jamaican Vacation.
______________________________________________________
But Summer Isn't Over…
Why you should look at holiday travel now
     I'm sure that thinking about the winter holidays at this time invokes a certain amount of panic. Gifts, food preparation, making sure you visit all sides of your family tree…it seems overwhelming, and we are about six months away! Even if there were more time left, it's best to plan now for your travel needs.
     Booking your travel with an agent is the best way to receive the most value and time savings for your trip. Flight prices continually rise when you get closer to your date of travel. Making sure you book early is a great way to get the best available rate. Also, if your family decides that this is "the year" to go on the long-awaited family reunion, you may need to invest in a passport. The normal turnaround time for applications is around 2 months (or more!) so be prepared by making these arrangements ahead of time. Plus, booking ahead of time
    Don't have anywhere you need to be? Why not do something different this holiday season and vacation! Gift the family with a cruise away from the snow, ice, and horrible drivers. It will definitely be a year to remember…and the memories you make on vacations are the ones you will remember forever.
    Caribbean cruise? A European tour? A 'Bucket-List' destination? Whatever you decide, let's plan it now! 
______________________________________________________
Traveling With Your Family Does Not Have To Be A Hassle!
Here are some tips from us to ensure a great trip. Contact me for more details and to get your quote!
Know the Requirements for the destination to which you are traveling. Some countries, like the Dominican Republic, charge an "entrance fee" just to leave the airport! It's important to use your travel agents' expertise to make sure your vacation is perfectly planned, with no surprises.
Plan ahead Of course this seems common sense, but what about back-ups? Make sure you have worked out options with your agent in case the flights are more expensive than you anticipated (we can't stand high flight prices either!) Perhaps your dates of travel are flexible, or you're willing to try an all-inclusive resort – let your agent guide you towards a perfect vacation you may never have even imagined!
Check your Documents – twice! When you get your confirmation documents from your travel agent, please check them – twice- for accuracy and any other instructions from your hotel or resort. Many times, they have additional bits of information, or an added coupon will be printed there. Also, make sure your passports are up to date – children's passports expire every 5 years and adults every 10. Even if you got them all at the same time they all may not be up to date.
Take Pictures of your vacation – that's expected. But also take pictures of your passport, your documents and other identifying information. You'll easily have an extra set at your disposal in case you need to prove your identity.
Plan for Quiet Time It make sense to want to pack in the most amount of sightseeing or fun activities on your trip, and truthfully your children may be so excited they do not want to take time out for a nap. But scheduling time for downtime will help both you and them – naptime can be more for parents! Sometimes this is in the form of an hour each day, or one entire day of resting. You'll be surprised at how much it will help, and nothing's better than happy kids, right?
Schedule your return trip on a weekend to give everyone an extra day to recover. Even if the house is perfectly clean when you return, having one extra day at home to unwind and get your normal routine back can make all the difference in how you view your vacation!
______________________________________________________
Dublin
The best known area for nightlife is Temple Bar, south of River Liffey. The area has become popular among tourists, however, it has been criticized as being overpriced, false and dirty. It was developed as Dublin's cultural quarter and retains the spirit as a center for small arts productions, photographic and artists' studios,  in the form of  street performers and small music venues. The areas around Leeson Street, Harcourt Street, South William Street and Camden/George's Street are popular nightlife spots for locals.
Live music is popularly played on streets and at venues throughout Dublin in general, and the city has produced several musicians and groups of international success including U2.
If you are interested in spending a couple of nights partying while shopping during the day, then the Temple Bar area of downtown Dublin is the place to go. In the evening the streets are blocked to pedestrian traffic only. There are too many pubs to count and each will have at least a DJ and usually a live band. It is definitely a place to visit and a must for walking from one end to the other checking out the pubs. Even if you do not drink.
______________________________________________________
Belize
When most people think of Belize they conjure up images of the barrier reefs and diving. And why wouldn't they? That is what the Belize tourism office promotes. What is not promoted near as much as it should are the Mayan Ruins. For anyone interested in history, archaeology or maybe you are just not into diving, exploring one of the Mayan Ruins is a must.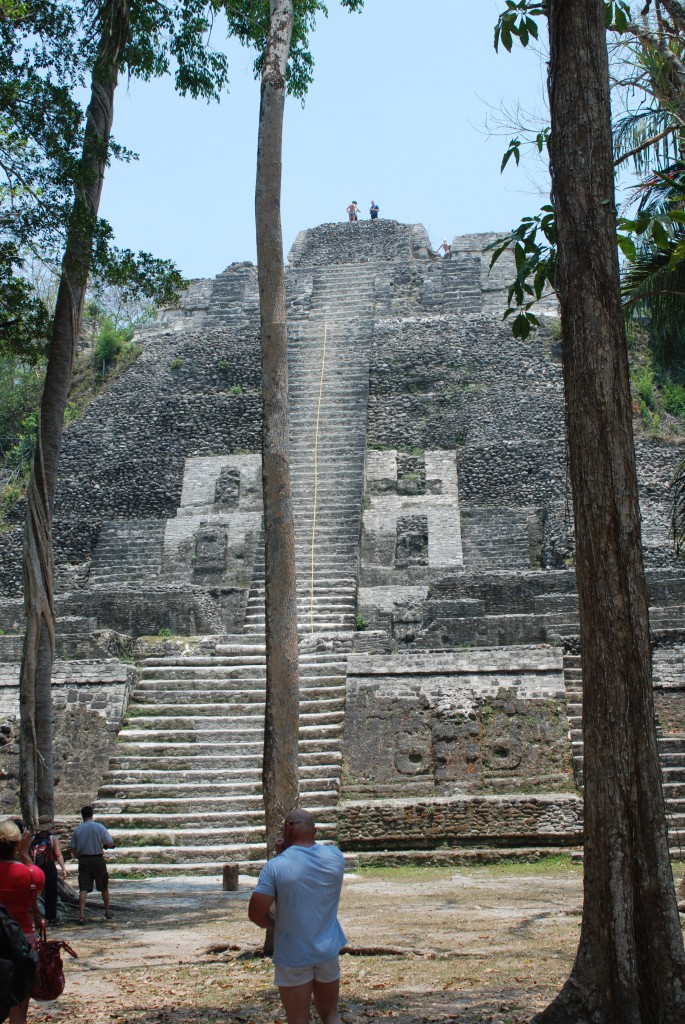 There are several to choose from but one favorite is the Lamanai Mayan Ruins. The reason is because it is an all day excursion, which includes lunch and a riverboat ride. The tour begins in Belize with an hour-long bus ride through several small towns and villages along the way. The best way to see how people from other countries live is by taking a guided tour through the country.
Once you arrive at the launch site everyone will board a riverboat for an hour-long ride up river to the site of the Mayan Ruins. Along the way you will have the chance to see many different wildlife as well as various flora. As you approach the final stop you will see the top of one of the ruins above the trees. It looks majestic. One can only imagine how it looked thousands of years ago.
______________________________________________________
The Allure Of Mexico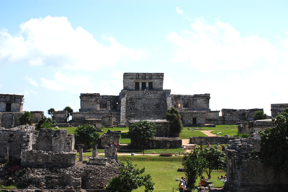 If you have always dreamt of exploring Mexico, but were concerned about not speaking the language or worried about getting around and figuring out where to stay, consider a cruise instead. Cruising offers the option of enjoying a single "floating hotel" as your home base while away and easily combines a variety of exotic ports including Cozumel and Playa del Carmen. A cruise to Cozumel and/or Playa del Carmen in Eastern Mexico combines everything you want in a trip to this region including seeing the famous Tulum Ruins. The Tulum Mayan ruins are about an hour drive south of Playa del Carmen. Of course if you are traveling with a group having come ashore from a cruise ship you will most likely be on a chartered bus. This is probably the best way to get there for several reasons. First and foremost, no rental car. Second, you will have and excellent guide to explain the local culture along the way, history of the area, and of course what to expect when you arrive at the ruins. In most cases you will stop along the way to shop at a local store to purchase hand crafted local ceramics, artistry and jewelry.
Tulum (Yucatec: Tulu'um) is the site of a Pre-Columbian Maya walled city serving as a major port for Cobá.
The Maya site may formerly have been known by the name Zama, meaning City of Dawn because it faces the sunrise. Tulum stands on a bluff facing east towards the Caribbean Sea. Tulúm is also the Yucatan Mayan word for fence, wall or trench, and the walls surrounding the site allowed the Tulum fort to be defended against invasions. Tulum had access to both land and sea trade routes, making it an important trade hub, especially for obsidian. From numerous depictions in murals and other works around the site, Tulum appears to have been an important site for the worship of the Diving or Descending god. Tulum had an estimated population of 1,000 to 1,600 inhabitants.
______________________________________________________
Girlfriends' Getaways At Sea
Luxurious accommodations, great meals, time to relax, go shopping or indulge in spa treatments, plus plenty of nighttime action! If this sounds like the perfect Girlfriends' Getaway to you, then maybe it's time to think about a cruise.
Grab your best gal pals and call us. If you can't steal away from husbands and kids for a full week, many cruise lines offer three- and four-night voyages where you enjoy all the same perks as a seven-day cruise. This is the perfect way to reconnect with high-school buddies, sorority sisters, or old friends while you get away from your daily routine and have a blast! Best of all, nearly everything is included so you can pay in advance, unpack once, and enjoy three meals daily plus snacks, special treats and midnight buffets; fun cruise itineraries; and onboard entertainment. The only things not included are alcoholic beverages/soda, shore excursions, and spa treatments. So it's a perfect, hassle-free vacation where you leave the "driving" to the captain and sit back and enjoy some fun with our friends.
______________________________________________________
Dine as you like
Everyone knows that one of the best things about a cruise is the food! Passengers dine on sumptuous meals three times a day in the dining room and can even go back for more at the Midnight Buffet! But wait…dining at sea has changed dramatically in recent years, offering travelers more options than ever before.
One of the biggest changes with dining at sea is the fact that you no longer have to eat in the main dining room at an appointed time for all of your meals. Most cruise lines today offer passengers plenty of options including more casual on-deck dining for breakfast and lunch, room service nearly round the clock, and alternative dining venues with a selection of restaurants from elegant to casual where you can dine when you want to, rather than at an appointed time/seating.