Lebkuchen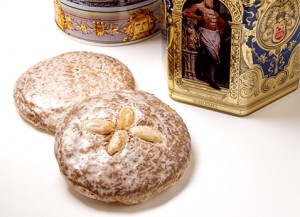 Spiced and nutty in flavor, these traditional German Christmas cookies taste like soft gingerbread. The best-known are Nürnberger Lebkuchen, which are often presented in ornately decorated tins or boxes. Sometimes, Lebkuchen are baked and decorated as ornaments.
Ingredients
Cookies:
1/2 C honey
1/2 C molasses
3/4 C brown sugar, packed
1 egg
1 T lemon juice
1 tsp lemon zest
2 3/4 C flour, additional for dusting
1/2 tsp baking soda
1 tsp ground cinnamon
1 tsp ground cloves
1 tsp ground allspice
1 tsp ground nutmeg
1/3 C candied citron, diced
1/3 C hazelnuts, chopped
Icing:
1 C sugar
1/2 C water or milk
1/4 C confectioner's sugar
Garnish
Almonds, slivered
Candied citron
Melted chocolate
Directions
Cookies:
Combine honey and molasses in a medium saucepan; bring to a boil. Remove from heat; stir in brown sugar, egg, lemon juice and lemon zest. In a large bowl, combine flour, baking soda and all spices. Add the molasses mixture and mix well. Stir in citron and hazelnuts. Cover and chill overnight.
Preheat oven to 350°F (167°C). Dust flour on a hard surface, roll out a small amount of the chilled dough to 1/4-inch thickness. If dough is sticky, use more flour when rolling. Using a cookie cutter or a glass, cut round cookies out and place them on a greased cookie sheet. Bake for 10-12 minutes. While baking, make icing. Place baked cookies on a cooling rack and brush with icing while still hot. You can decorate with slivers of nuts or candied citron or other dried fruit. Or if you prefer, you can drizzle with melted chocolate. Store in a sealed container with a wedge of apple or orange to retain moistness.
Icing:
Heat sugar and water or milk with vanilla in a small saucepan, but do not boil. Remove from heat and stir in confectioner's sugar. If icing becomes crystallized, reheat and add water or milk as needed.
Cook time: 10-12 minutes.
Makes 8-10 servings.