Viennese Hot Chocolate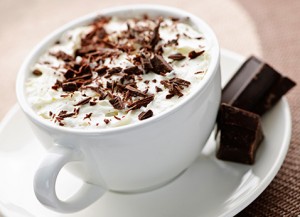 Viennese hot chocolate, the sort you get in Demel in Vienna, is little more than grated chocolate, sugar and milk, and yet, even served in tiny cups, it manages to warm and nourish in a way no cup of tea or coffee could ever dream of. Perhaps this is why it was, until the 1900s, thought of as medicine. Victoria Moore in How to Drink (Granta, £12.99) says the drink is perfect "as a remedy for a dank, grey morning when the wind and drizzle seem to creep through the window frames into your skin".
Ingredients
3 C of low-fat milk
7 oz premium dark chocolate, grated
1 T granulated sugar
1 C heavy cream, chilled
1/2 tsp vanilla extract
1 T confectioner's sugar
Garnish
Cocoa powder or chocolate shavings
Directions
In a sauce pan, gently heat 1 C of milk with grated chocolate. Simmer over low heat until all chocolate has dissolved. Combine remaining milk and granulated sugar in another saucepan and gently heat, whisking until all sugar has dissolved. Add chocolate mix to sugared milk and continue simmering over low. In a bowl, whisk heavy cream and vanilla together on high slowly adding confectioner's sugar until peaks form. Remove hot chocolate from heat and divide into cups. Place a generous dollop of whipped cream on top of each. Garnish with a pinch of cocoa powder or sprinkle with chocolate shavings and serve.
Makes 4-6 servings, depending on mug size.