Chocolate Hazelnut Panna Cotta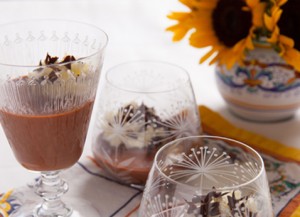 There are those who believe meals should "begin" with dessert. If there ever was one that qualified to break that tradition, this deliciously light and creamy Italian classic rises to the top. Historically, panna cotta was thickened with egg whites but this can be labor intensive. You'll find the dessert is much easier to make using gelatin, which does not require baking. When whisking in the cream, chocolate and hazelnut mixture, drizzle a whisper of Amaretto liqueur to give the richness a slightly nutty finish.
Ingredients
2 sheets leaf gelatin
2 C heavy cream
3/4 C chocolate-hazelnut spread, like Nutella
2 oz bittersweet chocolate, finely chopped
1 tsp Amaretto liqueur
Garnish
Sweetened whipped cream
Chocolate shavings
Directions
Completely submerge gelatin leaves in ice water and soak until softened, approximately 10 minutes. Combine chopped chocolate and chocolate-hazelnut spread in a large bowl. Bring heavy cream just up to a boil in a saucepot and remove from heat. Pull softened gelatin sheets from the ice water and squeeze out any excess liquid; add to very hot cream, swirling to melt and combine. Immediately pour heavy cream mixture over chocolate mixture. Allow cream and chocolate mixture to steep for a few minutes and then whisk smooth. Add Amaretto and transfer panna cotta mixture into 6 individual serving glasses or ramekins and place in refrigerator, taking care not to move them too much. Allow panna cottas to set for at least 2 hours before serving. Cover in plastic wrap and refrigerate overnight. Garnish with whipped cream and some chocolate shavings.
Makes 6 servings.