Wiener Zwiebelrostbraten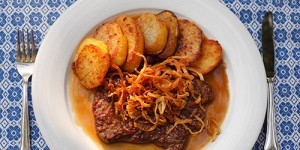 Wiener Zwiebelrostbraten might not roll off the tongue, but it will melt in your mouth. The name, which is pronounced VEE-ner TZVEE-bell-roast-brotten, literally means "Viennese Roast Beef." Very popular in Austria and Bavaria, this recipe enhances the beef flavor through oven braising. The dish is traditionally served with roast potatoes or buttered parsley potatoes; you can garnish with crispy fried onions if you like.
Ingredients
4 T butter
6 med onions, peeled & thinly sliced
1 tsp sweet Hungarian paprika
6 8-oz boneless beef sirloin steaks, pounded 1/4-inch thick
Salt & freshly ground black pepper
3 T vegetable oil
4 C beef stock or consommé, fresh or canned, cooked down (reduced) to 2 C
1/2 C sour cream
Directions
In a 10-inch cast-iron skillet, melt butter over medium heat. Sauté onions until light brown; add paprika and cook for another minute. Remove onions from pan and set aside. Season steaks with salt and pepper. Add and heat vegetable oil in same skillet and brown steaks on both sides. Turn off heat and add reduced beef stock to steaks. Arrange grilled onions on top of steaks and cover skillet with a lid. Place into oven and braise at 350°F (177°C) until tender, about 2 to 2 1/2 hours.
To serve, arrange steaks on a pre-warmed serving platter and scoop onions on top. Heat remaining sauce in skillet on stove. Stir in sour cream and immediately remove from heat and pour sauce over steaks and serve immediately.
Cook time: 2-2 1/2 hours
Makes 6 servings.